As an organisation we are committed to the services we provide and are proud of the work which is delivered. We value your contribution to our working ethos and hope you will find your experience as part of Reconstruct rewarding.
As an organisation we are committed to the services we provide and are proud of the work which is delivered. We value your contribution to our working ethos and hope you will find your experience as part of Reconstruct rewarding.
This handbook has been put together with information to help plan your Advocacy work. Also included is information and other documents to guide you to complete your paperwork and expenses along with our Policies and Procedures to keep everyone safe.
It is really important that you carefully read through this handbook and as an advocate for Reconstruct we do require you to do so.
Reconstruct offers support for your professional development and will work with you to guide you and identify any further training needs for the role. We look forward to working with you.
If you have any questions or want to speak to a member of the team, please e-mail or telephone as follows: advocacy@reconstruct.co.uk or Tel: 0117 244 656
Please refer to the Advocacy checklist for guidance and support with submitting your recordings and expenses.
Jump to the relevant section
Learn all about who we are, what we do and meet the team who will be supporting you...jump to section>
Find out more about our advocacy service and access our referral forms....jump to section>
Signs and Safety - section 2
Find out more about our signs and safety - section 2 model for child protection conferences....jump to section>
Find out more about views and feelings and access to our views and feelings form....jump to section>
Recordings and Submitting Expense Forms
Find out more about recordings and submitting expenses for payment....jump to section>
Find out more about Evaluation/Feedback forms from Children & Carers/Professionals....jump to section>
Find out more about our policies and procedures which are included in this Handbook.....jump to section>
Reconstruct was established in 1990 and is very passionate about improving services for Children and their lives. Our ethos is to work alongside children and young people as well as professionals to bring about change and increase better outcomes to make a difference to a child or young persons life.
With the child at the forefront of all work carried out, Reconstruct delivers Participation, Independent Visiting and Independent Advocacy services to vulnerable children and young people. Our services are currently being provided in Milton Keynes, Reading as well as in Bristol and South Gloucestershire.
Reconstruct are independent and strive to ensure that each child/young person has a voice to feel empowered to build resilience and confidence in themselves through receiving the support from our work. This is fundamental to our development and strong partnerships we forge with both Statutory and Non-Statutory organisations.
We maintain high standards and value our workers and volunteers who go the extra mile for the children they work with. We are friendly, flexible & accessible and very committed to the services we provide.
Reconstruct is part of Antser who are a connected group of new and heritage brands with shared values and a collective vision; Antser provide Training and Consultancy to Social Work Departments across the country nationwide, as well as providing Technology & Service solutions that enable positive change across the Health and Social Care sectors. Antser deliver end-to-end services to the children's and adult's social care sector, in partnership with local authority and independent providers. We also support the wider team working with children in, or on the edge of, care in the areas of health, education and the courts. Our solutions range from core compliance to transformation and technology all with one aim in mind – to deliver better outcomes.
Reconstruct has been working since 1990 to improve young people's lives by providing Advocacy, Independent Visiting, Participation and Mentoring.
We are passionate about improving children's services and lives. Whether we're dealing with an eight year old child or a director, we maintain the highest standards.
We do this by employing people who have the intuition, experience and support to make good judgements.
We value our people because they have a spark and because they have the ability to see a spark in others.
Direct Services Principles
Value our independence enabling us to reach families, children and young people who may not respond positively to statutory services.

Place the child at the centre, we ensure their participation in all aspects of their own life and planning, delivery and evaluation the services they receive.
Recognise each child/young person requires a unique response that meets their needs, and we adapt accordingly.
Provide services through a team of committed, enthusiastic and qualified staff and volunteers.
Build strong partnership, with all agencies, to ensure children, young people and their families receive services they need.
We build and maintain positive relationships with our commissioners to provide reliable, sustainable and outcome producing services.
Advocacy is helping someone to have their say, representing their views & feelings and wishes. It is about empowering children and young people to make sure that their rights are respected and to ensure their views and wishes are fully considered by the decision makers.
As you will be aware from your recent Advocacy training the role of an Advocate is extremely important and contributes to safeguarding children and young people to protect them from harm and neglect.
Advocacy also ensures their views are taken seriously and reflected in decision making about their own lives whilst they are either going through care proceedings or decisions are being made about them by social care professionals.
Advocacy is about making sure that vulnerable children and young people are given a voice, get the help they need when they need it (however small or large) and making sure that someone is always ready to listen to them and act quickly to support.
Introducing Advocacy to children/young people
Advocates can help a child/young person by:
Ensuring they have their say at meetings
Listening to what they think and how they feel
Helping them understand their rights
Helping the child / young person understand and navigate processes
Attending the meeting on their behalf or with them
Saying what they want to happen
Explaining what happens at these meetings, who will be there and what is likely to happen.
Meeting the Child/Young person before their Child Protection conferences or Child Looked After review meetings.
Representing Children's views
Advocacy is about effectively articulating the child/young person's view. This builds upon the guidance given as one of the core principles of the United Nations Convention on the 'Rights of the Child' and 'Every Child Matters -Next Steps' putting children's views and wishes at the forefront of the decision-making process:
• Advocates should remain non-judgmental and neutral.
• They do not promise the child/young person any guaranteed outcomes.
• The plan and final outcome is not about what the Advocate (as an adult) thinks is best for the child's welfare.
Supporting a child who wishes to make a complaint
Please discuss this with your coordinator who will guide you through the process.
Supporting a child who is disabled/or has learning difficulties
You will be guided and supported for this type of Advocacy work
Supporting a child where non-instructive Advocacy support is required
You will be guided and supported in order to deliver this type of work.
National Standards for the Provision of Children's Advocacy Services
The standards provide a framework for the planning, development and review of advocacy practice at all levels. In implementing this guidance, Local Authorities should ensure the standards are followed.
The National Standards spell out the core principles which should inform the delivery of Advocacy services:
Advocates should work for and with children and young people

Advocates should help children and young people to raise issues and concerns about things they are unhappy about;

Advocates should value and respect children and young people as individuals; and

Advocates should ensure that children and young people can understand what is happening to them, can make their views known and, where possible, exercise choice when decisions about them are being made.
Important information about Legislation Advocates should be aware of
The Children's Act 1989 provides a comprehensive framework for the care and protection of children. It centres on the welfare of children up to their 18th birthday. It defines parental responsibility and encourages partnership working with parents. Interagency co-operation is encouraged.
Under section 47 of the Children Act 1989, where a local authority has reasonable cause to suspect that a child (who lives or is found in their area) is suffering or is likely to suffer significant harm, it has a duty to make such enquiries as it considers necessary to decide whether to take any action to safeguard or ...
Every Child Matters (ECM) is a UK government initiative for England and Wales, that was launched in 2003, at least partly in response to the death of Victoria Climbié. It has been the title of three government papers, leading to the Children Act 2004. ...
Listening to the voice of the child is one of the main messages running through Keeping Children Safe, the Government's response to the inquiry into the tragic death of Victoria Climbié. Listening to children keeps them safe and helps protect them from poor practice.
Child protection is everyone's responsibility; both staff who come into direct contact with children, and those who work with adults who are parents and/or carers. The Government's response also required Directors of Social Services to ensure that the child is spoken to alone during an assessment and introduces a range of recommendations to protect Children.
The Children's Act 2004 is a development from the 1989 Act. It reinforced that all people and organisations working with children have a responsibility to help safeguard children and promote their welfare.
Children (Leaving Care) Act 2000 and 2018 introduce different categories of care leavers, Pathway Planning and the role of the Personal Advisor as well as in 2018 extending support to the age of 25.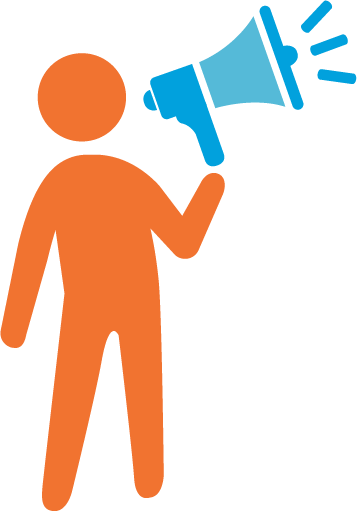 Advocates are Independent
Social workers, foster carers, elected members may all advocate or champion the wishes and views of individual children and young people – however they are not independent and their roles and priorities differ.
As an Advocate for Reconstruct, you are independent of the local authority and your only role is to support and relay the views and wishes of the child or young person and to ensure their voice is represented. Advocates are child led and do not follow another professional's agenda.
Children and young people you may Advocate for:
Children subject to a child protection conference/Child in Need
Chidlren / Young People who are privately fostered
Children looked after who wish to make a Complaint (Formally and informally)
Children looked after at review meetings
UASC - unaccompanied asylum seeking child/ UASC Care leavers
Children with Special Educational Needs and / or Disabilities who are in placements a distance away
Young people are in care or involved with Local Authroity Social Care servies for a number of different reasons. Some children and young people may be living with people they know e.g fostered by a family member or living with people they did not know previously e.g. Foster Carers, as well as in a children's home, supported independent living or living on their own in their own home.
Children and young people in care or on the edge of being in care have often experienced trauma, turbulence and a lack of consistent adult relationships. Decisions may be taken for them by adults and although these might be made 'in the best interests' of the child or young person, it may not feel like that for that child or young person concerned.
There are many reasons why children and young people have an advocate. They might request an Advocate themselves, or may be referred by a Carer, a social worker or another adult who feel that they should have access to Independent Advocacy support.
Reasons for referring a child
Being unhappy with the way they are being cared for
Feeling unhappy with a decision that has been made about their care arrangements
Feeling that they are not being involved in the decisions being made about them
Unhappy with the way the review meeting conducted
Not feeling as though they are being treated fairly
Feeling let down – someone not doing what they said they would do
A request for a new social worker
Being angry or upset about something that is happening to them
Feeling like no one is listening to them
Feeling as though they can't trust anyone
Wishing to make a complaint about their care plan
Restricted communication channels
Feeling unsafe or at risk of harm
Being bullied
After leaving care, they wish to complain about their transition
Having special educational needs/ difficulties and/or disabilities and needing someone to speak for them about their placement or care they are receiving
Being an asylum seeker and not happy with the placement or care received
Is out of area and needs an advocate to help them express their wishes to move closer to family
Is non verbal and requires advocacy to support his/her wishes regarding leaving care and transition process
Being a Care Leaver who does not feel sufficiently supported in terms of their housing, education, health or other issues.
Being a young parent going through Child Protection processes or being a Care Leaver who is a young parent.
Please note: Advocates are not required to attend Core Group meetings, unless instructed by the child/young person to represent their views and attend on their behalf. Social workers will try and involve you in these meetings. Please ask them to submit their request via email to your coordinator.
When you receive the Advocacy Referral document it will be password protected. The information is strictly confidential. You cannot share or discuss the sensitive information with anyone such as family, friends, work colleagues, or other Advocates. Any information should be stored securely as required by the Data Protection Act 2018.
When a child/young person is subject to a Child Protection Conference or when a Child is Looked After, lots of different people know lots of information about the child. This can make a child/young person become very worried about who knows what regarding their sensitive information and who is told what about their circumstances.
The child's views and feelings are normally shared with the Independent Reviewing Officer (IRO) for each meeting involving the child, however in your role as an Advocate it is important to remember that the views of the child/young person are only shared with other professionals and non professionals with the child/young person's consent. (It may be necessary to explain to the child/young person that the information will be shared with the IRO as standard and explain what his/her role is)
IRO stands for Independent Reviewing Officer. An IRO and Chair Person have different responsibilities and remain neutral within the decision making process. The IRO has a role in resolving problems by negotiation with the Local Authority and has, as a last resort, the power to refer children's cases to the Children and Families Court Advisory and Support Service (CAFCASS) to take the case to court.
https://nairo.org.uk/about/what-is-an-iro/
For CP Conferences an Independent Chair Person stands up for the Child's Rights and confirms what support needs to be put in place to keep the child safe and confirms on the final outcome for the child and what support is recommended for the family. https://www.frg.org.uk/images/Advice_Sheets/9-child-protection-procedures.pdf
The Social Work role is to carry out assessments and coordinate with other agencies to provide services to safeguard children and young people and to enable them to reach their full potential
https://www.basw.co.uk/resources/roles-and-functions-social-workers-england-advice-note
It is important to consider your role as an advocate and how you relate to other professionals to ensure it is clear that you are acting on behalf of the child and young person.
Keeping professional boundaries in place enables the Advocate to maintain an open and honest relationship with the child/young person. It is important to be clear with the child / young person that you are there for them but there are boundaries to your interaction with them. It is important to be clear to the child /young person that you are unable to keep any secrets if the information they share with you puts them or others at risk.
Engaging with the Child/Young person at the first meeting
At times it may seem difficult to engage with the child/young due the child not wishing to engage for a number of a various reasons eg. the child feeling emotionally upset because of home circumstances or due to not feeling able to trust anyone. The following documents can help break the ice and provides an opportunity for the Advocate to explain how Advocacy support can benefit the child/young person they are meeting.
Our Promise Document – Discuss with a child or young person when meeting with them for the first time
The promise document explains to the child that their Advocate will keep their information confidential and promises them that their information will be kept safe.
Allow the young person to keep this.
(*Attached in your document pack).
CLA Advocacy Agreements – Provided/discussed for Child Looked After Meetings
This is a child friendly Agreement which is completed by the Advocate during their first meeting with the young person. This outlines what you have discussed with the child in terms of how you are going to offer support and what you have agreed to do e.g. write a Complaint letter, attend his review, represent his views and feelings, attend meetings on his behalf.
A signed copy of the CLA agreement is also provided to the child/young person and the Advocate retains a copy too.
In addition you need to consider:
Being able to provide appropriate Advocacy support to the child, taking into account their age, means of communication, language, sex, race, religion, sexual orientation, health or disability. The advocate, when representing a child or young person, should be able to communicate clearly and effectively in English in a way the child is happy with. You must not use language that is offensive or can be construed to be offensive.
If there is a need for an interpreter please discuss this with your coordinator. (Interpreters are either booked directly or through the social worker/Local Authority).
The issues that the child or young person want to raise might be difficult for them, it is essential that you are patient and listen to everything that they say
When building your relationship with the child/young person ask 'open' questions that require more than a yes/no answer e.g. Can tell me more about how that makes you feel?
Too many questions are unhelpful, remember Advocates must not interrogate or probe.
It is OK to be silent allowing both the child and yourself to reflect on what has been said.
Paraphrase back to the child/young person to ensure you understand what has been said e.g. "You're saying that you do not want to go back to your school anymore", or "You are worried about the bullying and you want that to stop"
Signs and Safety - section 2 Model for Child Protection Conferences
The Signs of Safety - section 2 approach to child protection casework was developed through the 1990s in Western Australia. It was created by Andrew Turnell and Steve Edwards, in collaboration with over 150 West Australian child protection workers (CPWs), and is now utilised in jurisdictions across North America, UK, Europe, Australia, New Zealand, Cambodia and Japan.
The Signs of Safety - section 2 approach is a relationship-grounded, safety-organised approach to Child Protection practice, created by researching what works for professionals and families in building meaningful safety for vulnerable and at-risk children.
Signs and Safety - section 2 assessment - on a scale of 0-10 where ten means everyone knows the children are safe enough for the child protection authorities to close the case and zero means things are so bad for the children that they can not live at home. The situation is rated during the initial Child Protection conference meeting.
Advocates are required to ask the child/young person how they would rate each sub column heading from 0 to 10.
Obtaining views and feelings from children and young people
The document for obtaining Views and Feelings should be always be sent using the form provided in the pack. The views should not be sent on an email or blank word document.
The form has three columns and when obtaining views and feelings, each column should be scored out of 10, where possible and noted on the form. This information is reflected upon during the Child Protection conference meeting using the Signs and Safety - section 2 model.
On occasions, you may prefer to use the blank views and feelings depending on the conversation and what the child/young person would like you to say on their behalf. The form is the same but without the columns.
It is preferred by the Local Authority that the Advocate sends the child's views to IRO the day before the CP conference is due to take place. The document should be sent password protected via your Reconstruct email.
The IRO incorporates the views and wishes into the outcomes of the meeting.
Please remember to send a copy of the views and feelings completed form to your coordinator in case there is a problem and the Local Authority do not receive your copy.
Views and Feelings form – Please remember to:
Insert the Child's full name (first and surname) and DOB at the top of the document
Write the views in 1st person and only the child's or young person's own words.
Insert the date of the conference as well as the date and where the meeting with the child or young person took place.
It is good practice to provide some additional information setting the scene of the meeting and include any relevant observations (eg the environment, other people present at the time of the meeting, the mood and behaviour of the young person etc.
At the end of the document, please remember to include your full name and date.
Keeping children's information safe
Reconstruct work within the parameters set by the General Data Protection Regulations and Data Protection act 2018. Reconstruct keeps information on children and workers on a secure passwords protected, cloud-based storage system. Only retained staff who need to, have access to this through a password protected system. Freelancers will not have access to this. However you will have access to sensitive, identifying and confidential information.
To ensure that information is kept safely and legally:
You will operate to a level of 'agency confidentiality'
Documents such as views and feelings will need to be sent to professionals, password protected. Please click here for the guidance for instructions to password protect.
Referrals will be sent to you from Reconstruct password protected and the password will be shared with you by your coordinator.
Identifying case numbers are used by Reconstruct to identify children in written recordings. This is for internal use only and must not be shared with children or Local Authority professionals.
All information sent electronically to you and from you must only contain the child's case reference number – this includes views and feeling reports, emails, texts etc – you can refer to the child by their first name initial eg. Child M
When submitting recordings and expenses, please only use the Case Number and do not write the child's name in full on the same document.
All advocates must let us know of any changes or new information pertaining to them or their young person so that we can make sure it is recorded electronically.
In addition advocates must:
Ensure your devises are password protected.
Ensure documents particularly children and young people's views and feelings and your recordings are password protected before saving onto your computer or external hard drives.
Ensure documents and email servers are properly closed after use and no information is accessible should another user share that device.
If you are unsure about storing and/or sending any information or documents contact your co-ordinator or if you have any concerns regarding the above then please contact your coordinator.
Recordings and Submitting Expenses for payment
Log of your casework/calls/visits & meetings and Payment
Completing recording forms and other documents –
After each visit & meeting per case, you must complete and submit a recording sheet. The saving format, recording sheet and guidance can be found here

You are required to complete and send in the recording sheet and include a record of any communication you have had, such as emails to social workers and submit this to your coordinator on the Reconstruct advocacy email address provided to you.
Please send the recording sheet together with your expense sheet for each case.
Record details/key points of any relevant information obtained during conversations with social workers, foster carers or other professionals.
Record permission requested from parents and carers in order to speak with a child or young person.
Record a brief outline of conversations you have with a child or young person and include any particular queries or questions they ask and details of any permissions given to share information where applicable.
Saving and Naming format –

Before you send your paperwork in, please ensure you save each document in the following format;
Please see below:
PLEASE NOTE:
When sending the child's views Business Support/ note takers/ or Chair person
Please take out the case code number and insert the initials of the Child/Young person instead
eg. 2020_08_20_vf_km_date of cp conf_05.05.21_Catherine Stephens
It is not necessary to send the views in advance to the chair person for CLA review meetings.
Important, Please note: re expenses form
When completing the expense form regarding work carried out as per dates of work/activity, please also remember to complete the very bottom line of the expense form and ensure all the boxes are filled in on the left hand side ie. the date on the expense form, local authority, insert contract unless you are informed the work is a spot purchase, your name, case ref number as well as the other mins and monetary fields
If you don't have a case number, please do not enter the child's initials or name. Please ask your coordinator for the relevant case number. The case number is very important for each expense form. It helps us for monitoring purposes.
Submitting Expense Forms – payment of your work
*Please see the guidance notes and sample expense forms.
All expense forms should be submitted to your coordinator by the 25th of each month. Payment for your work will be on the 15th of the following month.
Any submissions after the 25th of each month, will be delayed until the month after the next payment run.
Please use one expense form per child's case. Please see the example on the page below.
Any expenses without supporting receipts may not be paid. Please ensure clear, legible imagine of all receipts are emailed along with your expense form and recording forms. Receipts can be scanned or photographed.
If you are unsure how to fill in your expense form, please contact your coordinator.
Important, Please note: re expenses form
When completing the expense form regarding work carried out as per dates of work/activity, please also remember to complete the very bottom line of the expense form and ensure all the boxes are filled in on the left hand side ie. the date on the expense form, local authority, insert contract unless you are informed the work is a spot purchase, your name, case ref number as well as the other mins and monetary fields.

If you don't have a case number, please do not enter the child's initials or name. Please ask your coordinator for the relevant case number. The case number is very important for each expense form. It helps us for monitoring purposes.
Evaluation/Feedback forms from Children & Carers/Professionals
Child/Young person - Feedback
Feedback is sought from the child/young person and also from Carers and Adults involved in the child's life.
It is not always possible to obtain feedback from the child after the first initial conference for Child Protection work. However we value the importance of this so lease do try to obtain feedback. , Often when speaking to someone neutral in order to off load their worries and concerns and how that made the child/young person feel is invaluable and is feedback.
Where it is not possible due to the circumstances for the child, it is worth trying to obtain feedback a few months later when things start getting better and once the plan has been recommended & the support put in place has had time to make a difference.
Feedback forms for the child/young person can be posted to them or sent via email to the Carer or other adult.
Please remember to send feedback forms to professionals and other adults too. This is better to do directly after a CP conference via email and request they send the form back to your coordinator and provide them with the email address.
It is good practice to reflect with your coordinator on what went well, what could have happened differently and what you could have done differently. Please do not worry too much, try and note the learning from the experience for future similar situations
Safeguarding is everyones business
Safeguarding, Child Protection, policies, implementation, training and practice are the bedrock of all our services.
All safeguarding concerns and allegations are treated seriously. Be sure to record the information clearly and promptly and ensure the matter is reported to a Senior Manager without delay. The matter will be properly investigated in accordance with local procedures and Statutory Guidance.
What to do if you are worried about a child
If a child or young person tells you something that concerns you, you must contact your coordinator in the first instance or the service Manager in their absence.
Remember:
Listen without judgement
Let Children and Young people use their own words, do not prompt
Don't promise to keep secrets
DO reassure the child or young person that they have done the right thing
All concerns about the safety and well-being of a child or young person must be recorded and reported to Reconstruct's Children's Services on the same working day as the concern has been identified.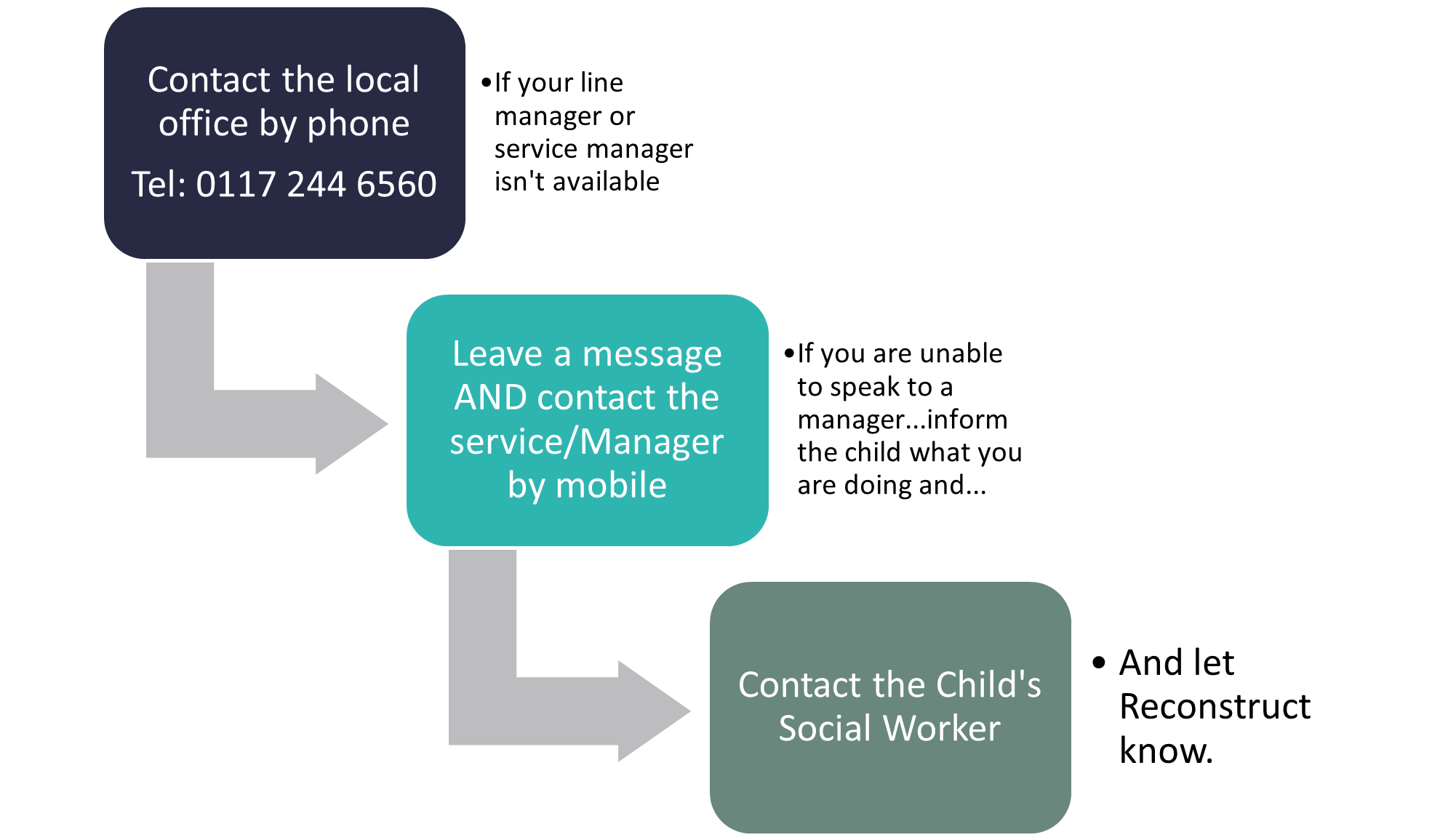 Please Note
If you have immediate concerns contacting emergency services may be necessary and / or the Emergency Duty Team of Social Services (EDT). It is a good idea to have a note of the EDT number in your phone/diary.
Your coordinator can provide this information to you.
What to do if you are worried about a child
If you have any concerns about the adults that you see around children, either within Reconstruct or the local authority, please discuss this with the your coordinator or the Service Manager appropriately. If the concern is about the Service Manager please contact the Managing Director.
For clear reporting lines and further information please see our Whistle Blowing policy.
Don't be afraid to make a complaint
If you aren't happy about the way something has been handled, or feel that you have been treated unfairly do speak to your coordinator or the Service Manager if you feel more comfortable doing so.
If the issue isn't resolved you can follow the company steps to raise a complaint that will be dealt with promptly and constructively.
To deliver a good service we will always listen to and welcome your feedback, whether that be a comment, complaint or a compliment.
As an advocate you are in a position of credibility as well as integrity. We expect you to be a positive role model and always behave responsibly and professionally at all times.
When Advocating for a child, Advocates are required to abide by professional boundaries.
You will need to:
Consider your personal appearance – being appropriately dressed to meet a child or young person and being sensitive to any cultural differences.
Ensure that you are punctual and reliable - turn up on time and call when you say you will.
There are strict regulations about sharing your personal information. You must not take a child/young person to where you live or let them know your address.
You must not make friends or connections on any social media platform. You must not take pictures of a young person on your phone. For more information see our Social Media policy.
Relationships with a child or young person
When building relationships with children and young people it is important to be open and honest.
Young people and children should be treated with dignity and respect at all times. If there are any issues or concerns that arise please discuss these with your coordinator or the Service Manager.
Always plan ahead for your safety and that of the child/young person. Ensure that you are well and make clear arrangements:
When contacting the Social Worker to obtain the Parent's contact details, please carry out a simple risk assessment via the telephone. Asking if it is safe to visit the child at home and if there are any additional issues or concern you need to be aware of eg. are there any dogs, is the property a flat or a house and check if there is adequate space within the home to meet with the child alone.
Re: Visiting during the Covid19 Pandemic situation, please read our important Guidance information. The guidance must be followed until further notice.
Ensure that Reconstruct have your most up to date contact details – for yourself and your next of kin.
When introducing yourself to the social worker, ask about where it would be best to meet with the child. In some circumstances, it is more appropriate to visit the child at school depending on the nature of the referral eg Child Protection referral
Make sure you have a mobile phone that is working and charged – and has relevant Reconstruct contact numbers such as your coordinator.
If travelling by car, make sure you have enough petrol for your journey.
If visiting the child at home, follow your instincts. If when you arrive, it does not feel right, feels unsafe or you feel uncomfortable for any reason, please leave and when safe to do so contact your coordinator.
When attending visits/meetings carry your Reconstruct ID badge at all times.
Ensure you have a copy of your DBS with you. Schools will ask to see this.
Before visiting the child at school, please contact the school. Ask to speak to the Child Protection lead and let them know you would like to visit the child. They will support and assist with the meeting arrangements.
Ensure that when you are visiting a child / young Person you are aware of your environment and what else is going on / who else is around.
For some older young people meeting in a public place may work better – going for a walk or meeting in a quiet coffee shop
Please be punctual for your meetings. Ring ahead if there are any delays.
Ensure that you listen to the child or young person.
Do not take any pictures of the child/young person
If faced with an emergency situation call 999 immediately.
Follow all guidelines given to you by Reconstruct and communicate any concerns, by phone and then record any incidents, on the incident form.
Reconstruct are committed to offering ongoing training and support. Following on from your initial training, you will be offered continual guidance and support to assist your progression and development in your role as an Advocate. This includes regular supervision on a one to one basis as well as an invitation to join peer support sessions throughout the year.
Supervision covers:
Your wellbeing, both physically and mentally
Your work, workload, responsibilities, specific cases;
Personnel issues (up coming holidays and sickness, etc.)
Training and development needs –
Health & safety
For further personal development, Advocates are required to attend Reconstruct Training sessions throughout the year as well as attend refresher safeguarding training sessions when required. Travel expenses will be reimbursed.
You will also be provided an opportunity to meet with your coordinator for an annual appraisal to exchange feedback and discuss what has been going well for you and talk about your strengths and explore areas where you may need more support and guidance.
When introducing yourself to parents and the child/young person on the phone, emphasize your role as being Independent and then re-iterate this again in person when you visit.
Make it clear that you are not part of the Local Authorty . The family are more likely to engage if they know this in advance.
Phone/text to confirm appointment with the School/Carer/Parent before setting off for the Meeting.
Prepare yourself beforehand. Remember the professional boundaries and expectations of your role.
Avoid too much conversation with the parent/carer before meeting with the child/young person. Carers and parents do have a lot to talk about however, Advocates must remember they are there for the child and must remain focused on hearing the child's views only.
Always try and request for a safe space to meet with the child/young person where there is some privacy. Sometimes parents may prefer to leave the door slightly open. This is OK. Check with the child too.
Remember to ask if the child knows what an Advocate is and if they know how you can support them.
Saying, "I know you don't know me and I don't know you but I am here to support you and to ensure your voice is heard" or" I am here to listen to what has been working well for you and what has perhaps not been working so well".
You may also like to add, "I am here to listen to what you might be worried about and what you would like to happen in the future".
Asking if they have any idea why Social Care services might be worried about them is also a good way to start a conversation (For Child Protection conferences).
Be casual, friendly and unofficial.
It is OK to say how little you know about their life and history (For CP work).
Children presume we know everything just like Social Workers.
Make it clear that you are there for the child/young person only.
Remember to keep confidentiality and reassure the child/young their information will be kept safe and only shared with the IRO for the meeting. Children often worry if the parents will hear their views. If there is anything the child does not want the parents to hear, you can submit this separately to the IRO who will make sure the information is not shared at the meeitng.
Allow child or young person to set the agenda, they may only want to say very little, this is OK. What they say maybe very valuable.
Make careful notes and records, include time & date. Record the notes in the child's own words.
Let the child/young person know that you will be making notes because you won't remember everything they say and you want to ensure that you write down in the Child's own words.
When visiting the child at school, especially Secondary school please be aware they often don't want other peers to know about the visit. Avoid suggesting break times for a meeting. Quite often seeing the child at the beginning of their lesson or instead of a lesson works better.
If the child or young person wants to make a Complaint – support them to do this.
Discuss the process with your Coordinator who will provide guidance and explain the process.
Prepare them to think about how they may be feeling when they hear people talking at the meeting about sensitive issues within their family.
Discuss potential ways that they may want to deal with this, eg, leaving the room, asking for a break etc.
Arrange beforehand whether child or young person will want a visit after the meeting, or a phone call or letter to provide them with feedback of the outcomes and support decided.
Talk to the Chair privately to share any potentially harmful information before the Meeting starts.
Include any additional confidential information separately for the IRO and not on the same Views and Feelings document to be read out in the Meeting.
Make sure you go through the notes you have made at the end with the child or young person to make sure they are happy with what you have recorded. Always use their own word or read the points back to the child as you go along.
Remind the child or young person that they can change anything at any time even up the start of the meeting before they go into conference if they are attending in person with you.
When reading the views and feelings at the meeting, read them out in the child's own words and avoid adding any unnecessary information before, during or after reading them out.
Remember do not give your own opinions or make any judgement even if asked by the other professionals.
Provide a blank sheet of paper and a pen in front of your young person, if they are attending with you, this is just in case they want to make you aware of anything to avoid interrupting the meeting.
Check with the Chair what they want you to feed back to the young person. Sometimes Social workers also feedback in the event the child or young person has not attended.
We place the child at the centre of any work we do and promote their participation in planning delivery and evaluation of these services. Each child in each situation requires a unique response that meet their needs and we adapt accordingly.
You can read our policies and procedures which are included in this Handbook.
Reconstructs Values and Principals